Street vendors in Hania can sell you almost anything. There are always bric-a-brac stalls operating outside the
Agora
, close to a bus stop, selling all sorts of things you never thought you'd need, but suddenly thought could be useful when you see them being sold on the street: children's toys, garden tools, men's boxer shorts, calendars, pirated CDs and DVDs, even aromatic (seasonal)
freesias
; you name it, you can find it, all on the streets of Hania, and most other large towns of Greece, including the capital. The vendors themselves will remind you of poor peddlers from forgotten times, walking around the streets pushing a cart or driving a vehicle of their own invention. Their presence in the town makes them unique and all the residents have a little story to tell about them. These days, they are usually old people or immigrants earning a small income for themselves. In Crete,
peddlers
still go from one village to another selling all sorts of things one could only get in the town, although not with a donkey and cart like they used to. There is a famous Cretan song about the '
pramateutis
' (πραματευτής) which I remember hearing many times when I was living in Wellington from a 45rpm record on a very old pick-up player (it looked like a suitcase when it wasn't being used).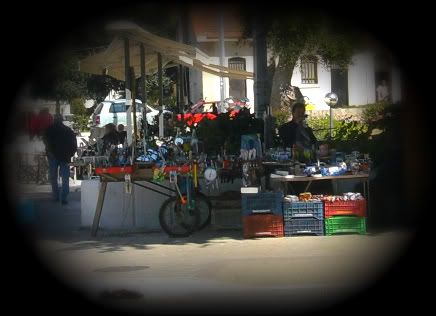 When it comes to street food, vendors are more limited in their range of wares; fast food and sandwich outlets have helped to replace this tradition a little faster. Throughout the year, fresh seasonal produce is sold on the roadside just outside the town centre in pick-up trucks -
sultanas from Iraklio
, watermelons from
Akrotiri,
potatoes from
Lasithi
, even field-collected
snails
. Ready-to-eat food lacks this variety. From autumn onwards, you can find seasonal roasted chestnuts and corn on the cob, grilled over hot charcoal, which also keeps the vendor warm. In the warmer months, only donuts and koulouria are sold on the streets of the town. Koulouri vendors are found everywhere: in central squares, outside government offices, at open-air markets - any place where a lot of people congregate and have long waiting periods to get their jobs done. When I'm on the road, if I don't buy myself a piece of freshly cooked
spanakopita
from a lunch bar, I buy one of those koulouria, the Greek version of what's known as a bagel in the USA.
Street koulouria are always round. There are various types of koulouria sold. People ask for them by the type that they like: hard and crunchy or soft and chewy, sweet (like the ones
Mariana
made) or savoury, lenten (like
Chanit's
) or non-lenten. The soft sweet ones are made with twisted pastry lengths before the ends are stuck together to form a zero shape, which is why we tell our children to be careful not to get a koulouri from the teacher (
Mariana
explains how this type of bread got its name). The savoury ones are usually plainer looking. They all get rolled in sesame seeds. My favorite type is the slightly chewy savoury lenten ones. I like to bring them home with me and savour them with
feta
or
graviera cheese
, a few
olives
and a glass of wine. It's practically a main meal for me.
The other day, I was at the (in)famous
IKA
, the NHS of Greece, with a similar reputation. The koulouras, as koulouri vendors are known here) was standing outside the entrance to the gates of the building selling his wares.
"One, please,"I asked him.
"Forty cents," he replied.
"Only forty cents?" I had paid sixty cents for one at the open-air market the other day, sold by the well-known
bagel lady in Hania
, a woman who wears a frilly white apron and rides an improvised three-wheeler bike around the town selling koulouria. She does a roaring trade with her smiling face, exchanging friendly chatter with her customers.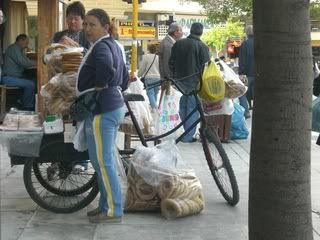 "The person on the other side of the building is selling them for fifty cents each," the koulouras told me.
I gave him two euro and bought five koulouria to share among the family. At this price, they were a bargain.
©All Rights Reserved/Organically cooked. No part of this blog may be reproduced and/or copied by any means without prior consent from Maria Verivaki.