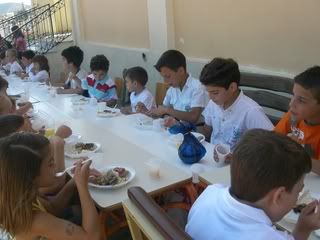 Greek primary
schools
officially close for the summer on 15 June, which falls on Sunday this year, so children get two extra days to enjoy during their summer holidays. Officially, schools re-open on 10 September, which amounts to a three-month summer holiday. If it surprises you that schools close down for so long, just wait till you hear what
other holidays
they get throughout the 'scholastic' year: a 2 week-break at
Easter
and
Christmas
, national, public or religious holidays - there is one every single month of the school year - as well as the school festivals preceding the national holiday when no lessons are conducted, not forgetting the infamous teachers' strikes that occur right throughout the year (and we're not including weekends in this). I've worked out that the average school year in Greece consists of just 160 days: just 7 and a half months (including weekends) of the year. You will often hear Greeks complaining that their children have too many lessons, too much homework and too many after-hours private school classes. They are absolutely right; what do you expect children to learn in just over half a year of state-funded education, while their counterparts in other European countries get at least 9 complete months of regular schooling per annum? No wonder they're doing after-school lessons at the infamous (and expensive) frontistirio (private preparatory educational institute) to learn anything at all (on their own or with their parents).
The end-of-year school celebration usually consists of a theatrical production, poetry recitals and songs. Parents are always invited, and many usually go, as it is a duty towards their children. Today, many carried their cameras to snap their offspring in their moment of glory during a performance. I was carrying mine for one more reason: to ascertain the role that the
Mediterranean diet
plays at
school functions
, because, in any gathering of Greeks, whether it's large or small, food is always a main feature. I didn't expect it to take centre stage today, and I hope you will all be pleasantly surprised by the course of events.
The primary school my children attend is located in a
village
. This doesn't mean that most mums don't work; it means that most mums have more time available to come and see their children performing at school. (Meal preparation, cleaning, washing, helping children with their homework, and all those other chores women take on are all work too, jobs which many urban working mothers hire paid help to get done.) For many reasons, not least of which one may be that the teachers should not be inconvenienced, the celebration takes place in the morning during regular school hours. Those of us lucky (or, depending on your point of view, unlucky) enough to have our mornings free can attend the function. Mothers, fathers, grandmothers, grandfathers all came in to see them. Everyone was
well dressed
, as were their children - bright clean new summer clothes. No matter what the children wear to school on an everyday basis, today was different: it was a day to wear your Sunday best.
I sat among the crowd of other mums, some holding their morning cups of
coffee
, others their lit cigarettes. A few carried both. They were all dressed to the nines, perfect pedicures displayed on well heeled ladies of all shapes and sizes. The men folk came in their brightest shirt, a sign that they weren't working in the fields today.
Speeches always come first in all Greek celebrations. The headmaster asked one of the older children to recite "Our Father" (the smokers still had their cigarettes in their hands) and then went on to thank the teachers for their efforts this year, praising the children in turn for their achievements. The local priest reminded both the teachers and parents of their duty towards their children, who he advised to heed their teachers well. Then it was the turn of the mayor to make his appearance before running off to another school in the district to do the same thing. The PTA president reminded everyone to come back refreshed after the school holidays. Finally, the
kindergarten
teacher, a very kindly woman who all the village children have been schooled by at some point in their life, said a few words about the children who will be entering Grade 1 next year. Her class plays a bigger role than the other classes at end-of-year school functions:
school plays
are usually performed by the youngest children of the school, in other words, those who don't get stage-fright, are less self-conscious and haven't yet lost the facial features that represent child innocence.
The kindergarten performed a play all about summer fruit, chanting rhymes about what each different kind of fruit offers in our daily diet. This was followed by Grade 6 - the graduates of the primary school - who read out some notes based on a larger school project that they had worked on concerning the Mediterranean diet. It may have been interesting, but nobody listened to them, which just goes to show how interested the locals were in the subject:
local food
, food scares, daily diet,
food labelling
, GMO food, the Mediterranean diet, the future health of their children and their health in general. The girls could not be heard above the audience's chatters and the other children's disturbances. Mobile phones were ringing every minute. It was a shameful way to behave. As usual, people don't bother listening to each other, wanting only to be heard themselves.
The headmaster knows the ways of the people in the area, but did nothing to stop them from drowning the audience's cackle. It was pointless to reprimand the audience for their behaviour; they were probably not listening to him either. He congratulated the children on their effort and then turned to the audience who were by now sounding like gobbling turkeys.
"My dear parents" he started, "I know you weren't listening to the pupils of our graduate class, the children who may one day be teaching your grandchildren in this very school, as one of my former pupils is now (
a fact he is very proud of
), but what they had to say about the Mediterranean diet actually concerns you too. Let's not forget that we were raised on that favorite of Greek fruit,
the tomato
,
grated onto a plate with olive oil and a little salt mixed into it, with a slice of bread
. This summer, don't give your children
chippies and cheese crisps
, remember what you used to eat when you were their age. Maybe I shouldn't be telling you this, but if you let your children eat an
ice-cream
every day in the summer, that shows that you don't love them. The ice-creams we buy don't all contain milk, and and some of the ingredients are probably unknown to most of us, we don't actually know what exactly is in the ice-cream we buy."
I don't know how much sunk into the heads of the people that were there; it can't have been much, as most weren't listening to him in the first place. He went on to say that they must take their children to the beach regularly, or at least, keep them physically active, because (although he admits he isn't the best example of this last piece of advice himself), in general,
Cretans have a weight problem
. I don't think you will find a more caring headmaster than Kirios Antonis.
I asked the 6th grade girls for a copy of the speeches they had just made. They were more than happy to relinquish their papers to me, which would probably have gone into the bin if I hadn't salvaged them. Here is part of the speech that included some facts about the Mediterranean diet:
"Along with hereditary traits and the environment, our daily diet is what our health depends on... We use a wide variety of foods in our daily diet, which are procured from a variety of sources: plants, animals and the food industry... It is preferable to choose foods which come from nature, and to avoid industrialised food as much as possible. The
basic food pyramid
shows what food should constitute our basic diet, and what foods should be eaten in smaller quantities... The
traditional Mediterranean diet pyramid
has been proved to be the healthiest. It is made up of the dietary habits found among the Cretans and Southern Italians in 1960. It is well known for its beneficial properties, as well as guarding against heart attacks and various types of cancer. This dietary routine has become more widespread in recent times. The menu is simple, based on a spartan diet: greens, fruit, beans, vegetables, cheese, brown bread, olive oil, dried fruits, home-brewed wine and fish. Its basic structure also protects the skin from signs of ageing. This menu, combined with physical exercise, is the key to longevity and good health."
The show continued with various groups of girls performing dance routines to popular songs, including Kalomoira's dance routine for "
My Secret Combination
". Greece is always a finalist in the Eurovision song contest, in which a forgettable pop song sung by an equally forgettable pop star usually wins. No wonder we do so well in the competition; children are actively supported in their endeavours to improve on their vocal-kinesthetic abilities from an early age.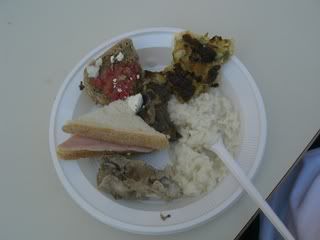 The time for the buffet had arrived. Now we would see what had been prepared by the PTA. Everyone knew that this year, the food was going to be representative of Mediterranean cuisine, as Kirios Antonis had promised us in his opening speech, a far cry from the
puff pastry junk food
that had been offered at the school's
carnival party
. A gathering of Greeks cannot have a party without food; more so when the school is located in a village setting, next to olive groves, orange fields and grazing sheep. Even though it was only 11 o'clock - too early for lunch - the PTA had organised a well-cooked traditional festive Cretan meal, showing that the Mediterranean diet is alive and well and living, at least, in the village of Varipetro. The meal was organised by the PTA members and cooked by volunteers; anyone who wanted to could bring along their own plate to share. The menu was purely Cretan: boiled locally raised spring lamb,
pilafi rice
made from the meat stock,
boureki
,
pastitsio
(for those who didn't get
boureki)
, and
dakos
(a small
ham and cheese sandwich
, admittedly not part of the Mediterranean diet, but it acted as a plate filler. The only drinks found were
orange juice
and home-brewed wine for the adults; the festivities came complete with Cretan music and
mantinades
.
Good habits start at a young age. Children can be taught to respect good food choices made on their behalf if this is done in a respectful manner.
©All Rights Reserved/Organically cooked. No part of this blog may be reproduced and/or copied by any means without prior consent from Maria Verivaki.