BBQ is pretty much standard Sunday fare during the warm season in most Greek households (It would be standard fare all year round in my house if we had a decent BBQ): pork steaks, lamb chops, sausages, chicken meat, all cooked on hot charcoal, leaving behind no mess in or smells in the kitchen.
The standard Greek marinade consists of salt, pepper and oregano sprinkled on the meat, which is usually left to rest in lemon juice. During cooking time, more seasonings are sprinkled on after the meat is brushed with oil to stop it from drying out too quickly while it is cooking. After it's cooked, lemon juice is once again squeezed over the meat.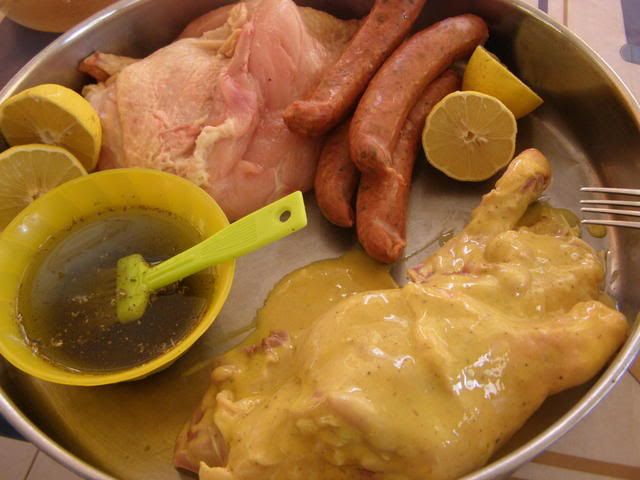 Today, I tried
a chicken marinade
using mustard and Worcestershire sauce, found on a
website whose host
claims to be a BBQ expert. It's quite unlike any marinade I've ever tried before in the sense that the sauce was quite thick and stayed pretty much glued onto the chicken. What's done is done, I thought, as I applied it on both sides of some flattened chicken pieces. For this reason, I didn't brush all the chicken with the mixture, which is a shame, because the marinated chicken turned out moist and delicious, making the Greek version of chicken BBQ taste drier and blander.
The chicken was accompanied by a large garden-fresh
Greek salad
, and some grilled bread, all washed down with cold beer. We enjoyed it so much that it has inspired us to invest in a better BBQ so that the cook doesn't moan so much. There wasn't any room left for the
lovely pepper tart
I prepared according to
Laurie's recipe
, using up all our
garden peppers
; it will make a perfect evening meal to be enjoyed in the cool night-time breeze on the balcony.