My parents bought our first (and only) family home in Wellington when I was seven, where we lived altogether for nearly twenty years. It was full of different rooms for different purposes: a spacious living room (crammed with settees, glass cabinets and a stereo with a record player), a dining room (with a heavy unmoveable table), a TV room (the biggest
PYE
screen we could find, with ornate cabinet doors to protect the screenn against dust), a separate kitchen, a separate bathroom, a separate toilet, a separate laundry room, a small lawn with flower beds, a huge rambling garden, a basement and even a three-bedroom flat to rent out, all located within easy walking distance of the CBD (central business district), rendering even public transport unnecessary. The view from our house in Mt Victoria reached right out to Victoria University in Kelburn; I knew when the library was open for longer hours than usual just by looking from the kitchen window at the end of a 25-metre hallway. The
quarter-acre bungalow
dwelling was the NZ norm in the late 20th century, and when you have never lived differently, you think everyone lives like this, or at least strives towards this lifestyle.
When I came to Greece, I was mortified to discover that this was clearly not the case, especially if your home is in the middle of an urban sprawl like Athens. If you're lucky enough to afford a two-bedroom apartment with even a small lounge and a functional kitchen and bathroom, you will consider yourself very lucky, especially if you live and work in the same area. A house with its own four walls and a patch of garden is clearly a luxury.
I'll never forget my first rented flat in a central Athenian suburb, even smaller than what was described above. It was very cheap, which is why I lived there: 30,000 drachmas a month (less than 100 euro, utilities included) for a large bedroom, small windowless hallway which acted as a living room, a tiny but fully functional kitchen, and a bathroom, the only room which I had to share with a tenant who boarded with the landlady, an eccentric, microscopic woman in her mid-40s, who smoked a pipe and liked to walk in and out of my apartment naked, which was easy to do because she had made a small aperture in the dividing wall separating the two apartments. Her dog always seemed to make a point of shitting in my part of the property; she was more than happy to come and clean it up (after she put on some clothes). As you can see from the photo, I was making
apple cake
even then...
The other tenant shared her own kitchen, where she prepared miso soup and seaweed pasta, regularly inviting me to partake of such meals, accompanied by tea made from strained
horta
water. She clearly hated cleaning up; all her crockery was stained - nothing was ever scrubbed. She claimed to be a nature lover. She had what looked like a million pot plants strewn all over the adjoining balconies, located on the second floor of a corner apartment block, all set up with an automatic irrigation system. She never spilled a drop of water on the balcony tiles, not even to clean them.
The only good thing about the apartment was its location. The view from my two-by-five metre balcony was still more apartment balconies, but much further away from mine, due to a supermarket building across the road from the block. It had been purposely built and was only two stories high, which meant that I didn't have to stare into another person's home, or watch someone walking around naked. Summer evenings were stiflingly hot; if you opened the windows for air, the noise from the traffic - the apartment block was on a main road - was deafening. The only reassuring noise was the sound of a trolley bus passing by at regular intervals; you could rest assured the means of transport weren't on strike. It made me realise how miserably people force themselves to live, all for the sake of a 'good' job (you work long hours in a big city), going to shows like concerts, theater and film premieres (when you've been working all day, it's an effort to go) or maybe just to feel more refined (hence the rise of urban peasants who buy their apples from a supermarket, yet have never seen an apple tree).
I came to detest boxes for houses, but found that it was the only solution I could afford for a long time. I also realised I didn't want to live in the big smoke. I had no idea what the landscape of the area looked like, having gotten used to the view of one apartment block after another for miles around. One time, I went up to the top floor and was amazed to see that I lived near mountains! I had never put it in my head that I would ever live in (let alone own) a detached house whose walls I didn't have to share with anyone, but I still bought house and garden magazines and home improvement books:
Terence Conran's House Book, Laura Ashley's Decorating with Fabric, The Complete Book of Country Living
. I was living in the hope that one day I might make my dream come true. And for the most part, the dream of living in a large airy house away from the buzz of city traffic did come true: the four walls of our house are ours and ours alone; I just have to share the floor (it becomes someone else's ceiling after a certain point).
I still have those books I bought many moons ago when I was still dreaming of the life I'm living now, and one of them
(The Complete Book of Country Living)
contains a recipe I've been using for over a decade to use up a midsummer tomato glut and turn it into tomato sauce for winter use when only tasteless hothouse tomatos are available at the fresh produce section. I use it as a pasta sauce, a soup base for all types of
beans
, and a spread for pizza bases. (Another way I preserve fresh tomato is to puree it and place in plastic bags, or even stick whole tomatos in the freezer as is, but tomatos preserved in jars don't take up freezer space (
there's no more room at the inn
). You just have to be sure about the bottling process you use to guard against contamination.
The recipe I use to make 'fancy tomato ketchup' (as it's labelled in the book) has been copied directly from the book (Mallard Press, 1992) with my variations in
italics
. I've also used it for many other recipes to preserve various fruits and vegetables, but this is the recipe that beats them all.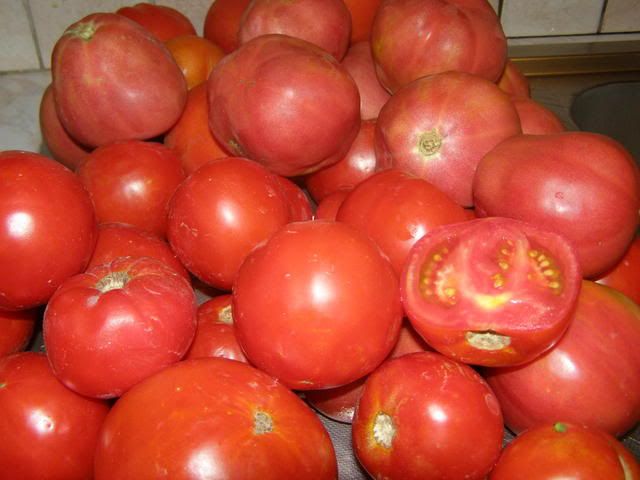 You need
:
25-30 medium sized fresh soft tomatos, without being squidgy
4 apples (
I use only 3 of the large red starkin variety
)
1 large onion (
I use at least 2
)
1 cup cider vinegar (
red wine village vinegar, of course!
)
3 tablespoons of brown sugar
1 teaspoon of oregano
1/2 teaspoon of chili pepper (
I use a tablespoon of strong black freshly ground pepper
)
3 whole
bay leaves
(
or half a dozen, if you have them growing fresh in the village
)
Peel (
not necessarily!
) and core the tomatoes. Puree in a processor and pour into a stainless steel saucepan. Peel and core the apples. Put them in a pan with a cup of water, cover, cook till soft and puree them (
or just puree them raw, like I do
) and add them to the tomatos. Add all the other ingreidents and cook on low heat, stirring often, for at least two hours, or until all the liquid has evaporated and you are left with just tomato (
it will start sticking to the pan at this point, which is how you can recognise that all the water has gone
); it will have drastically reduced in bulk. The tomato sauce is cooked in an uncovered saucepan; the kitchen will be smelling heavenly at this point.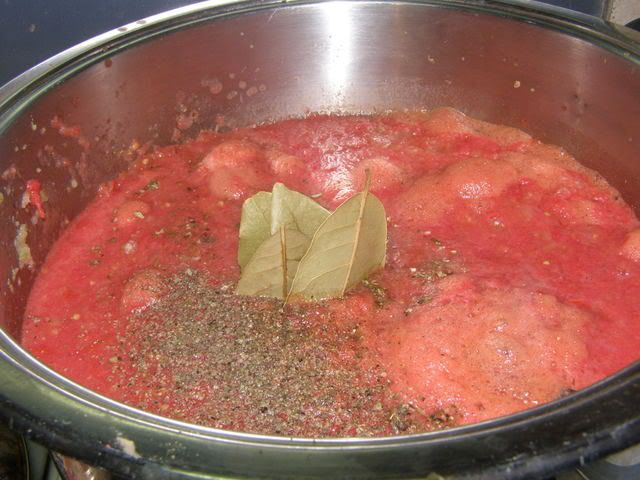 Ladle the hot ketchup into hot sterilised jars (
all mine are recycled from honey, coffee and other comestibles
). Clean the rims of the jars (
the capacity of mine never exceeds 750g, as this is the amount of fresh tomato I would use for the average meal)
and seal them (I
let the sauce cool down only slightly and seal them with a piece of saran wrap, before fixing on the lid
).
The last part of the process involves placing them in a water bath canner for 45 minutes for 1/2-pint or pint jars, something which I never do. From my reading, I worked out a substitute method to get the same effect as the water bath canner (unfortunately, I can't remember my sources now. My tomato sauce keeps without going bad for just over eight months. When I open the jar, I hear that popping sound that a seal makes when it has been done properly; if it doesn't make that sound, then I worry. I make at least two lots of this sauce per season (I know I'm just showing off...)
The tomato season is only just starting. Up until the end of June, garden tomatos were few and far between. Even at the supermarket, the tomatos being sold were still hothouse tomatos. Apart form beef tomatos, we also produce vine tomatos which have a slight pear shape, rather than the regular round variety. When there's a zucchini glut in America, I've been told that you have to lock up even your letterbox because you never know who's going to deposit their excess crop in there. But don't expect to find any tomatos hiding in amongst the zucchini in your letterbox because there can
never
be a tomato glut,
ever
; you can never ever have enough tomato. It is always the most important crop we grow; it ripens later than any of the other summer garden vegetables, but what can you do with most Greek-style vegetable dishes if you don't have tomatos? Tomato is also the most sensitive crop we grow; it is more vulnerable than other garden veges to rot, disease and calcium deficiency.
This is my entry for
Weekend Herb Blogging
hosted
by Archana
from
Archana's Kitchen.
©All Rights Reserved/Organically cooked. No part of this blog may be reproduced and/or copied by any means without prior consent from Maria Verivaki.